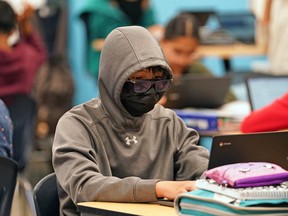 Content of the article
As more Alberta children get sick and miss school, parents and health workers worry about how the health system will cope with even more illnesses this winter.
Content of the article
Last week, the rate of absenteeism due to illness among Edmonton Public Schools students rose from 10 per cent to around 13 per cent from Monday to Wednesday. About 105,000 students attended classes on each of these days, according to publicly available EPSB data.
Content of the article
A spokeswoman for the Edmonton Catholic School District said Tuesday that 16 per cent of students were absent due to illness, with about 7,400 children.
'A vicious cycle': Study shows overburdened hospital ER affects wider health system

Alberta unions 'resolute' to meet with health minister on health service review
In a Nov. 7 letter to parents, ECSD Superintendent Robert Martin said there has been a "significant increase" in reported viruses and illnesses that have contributed to the spike in absenteeism.
"While maintaining in-person learning is our priority, it may be necessary to shift classes or grades to online learning due to operational challenges," Martin wrote.
In a statement, a spokesperson for Edmonton Catholic Schools said there has been no need to move classes online so far, and doing so would only be considered "after all other options to maintain learning in person" have been considered. ECSD has already "changed operations" and delayed professional development to ensure there will be more substitute teachers.
Content of the article
Meanwhile, in Calgary, a Postmedia data request revealed that public schools had an average student absence rate of 8.8 per cent due to illness in the first week of November, more than double the rates last month.
When a school reports a sickness absence rate of more than 10 per cent, Alberta Health Services is notified and investigates the potential outbreak.
Edmonton pediatrician Tehseen Ladha said she's seeing school-age and kindergarten children getting sick more often, and even though it's officially flu season, so many children are getting sick earlier in the year than she would expect.
"I have patients and families who are overcoming one viral illness and then another one strikes," she said. "Some of them have literally been sick for the last eight to 10 weeks since school started."
Content of the article
Wing Li, director of communications for advocacy group Support Our Students Alberta, said she knows the experience well as a mother of two elementary school children.
"They've missed a lot of class," he said. "We used to say in our house, any day the kids can go to school is a bonus, and that shows how often (the illness) has been."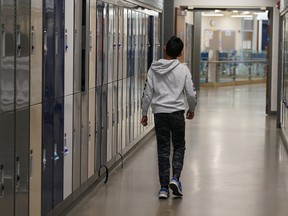 "This winter oppression will be worse than any other"
COVID-19 continues to circulate, but influenza and respiratory syncytial virus (RSV) are also hitting hard. It's a rough season for other respiratory illnesses, something experts have warned of, as public health measures, including mandatory indoor masks, are not in place.
Alberta's confirmed flu A cases spiked in late October, jumping nearly as high as the peak of the last regular flu season in 2019, which didn't reach until late December of that year.
Content of the article
Ladha said one of her biggest concerns is that the health system will not be able to cope in the coming months.
"This winter crush is going to be worse here than any other in history, in a pediatric sense," he said.
Emergency room wait times in Alberta have changed in recent months, but many patients and health care workers have raised the alarm over long delays in receiving care. As of Sunday afternoon, Alberta Health Services reported a five-and-a-half-hour wait in the Stollery Children's Hospital emergency department.
"I personally see patients' families go to the ER, wait five or six hours, go home. Their child is worse the next day, so they go again, wait five or six hours, go home," Ladha said.
Content of the article
"Then they call an ambulance the next night when the child can't breathe properly."
Ontario's chief health officer will ask the public to wear masks on Monday, but that has been postponed to a new mandate. The province's pediatric ICUs are operating above capacity and Toronto's SickKids Hospital has been forced to cancel non-urgent surgeries amid the flood of sick children.
Ladha said measures like masking in schools, as well as indoor public places, would help alleviate the situation in Alberta, even if it is a temporary move.
But Premier Danielle Smith has vowed the government will "not tolerate" mask mandates in the province's K-12 education system.
Asked about the rise in respiratory illnesses and school absenteeism on Saturday, Health Minister Jason Copping said the government is approaching the situation as it was before the COVID pandemic.
Content of the article
"We've focused more, now that we're in the endemic phase, than we did before, frankly, in terms of the flu season and the RSV season."
He said the higher absenteeism rates were also due to parents being more likely, following advice over the past two and a half years, to keep their children at home when they are sick.
In terms of strengthening the health system's capacity, Copping said the government was looking at "a number of options" and expected to make further announcements in the coming weeks.
The Edmonton Public School Board has scheduled a special meeting Tuesday to discuss writing to the province's chief health officer "to clarify the data used to determine additional health protocols."
For parents, Li said, it's another uncertain time.
"We want to see some public health leadership to keep the school as personalized as possible," he said.
"The frustration is the lack of information, the lack of guidance about what we can be preparing for."
— with files from Eva Ferguson and The Canadian Press
masmith@postmedia.com